Natural Skin Care for Down There: Bushbalm Q & A
Written by Corey Somerville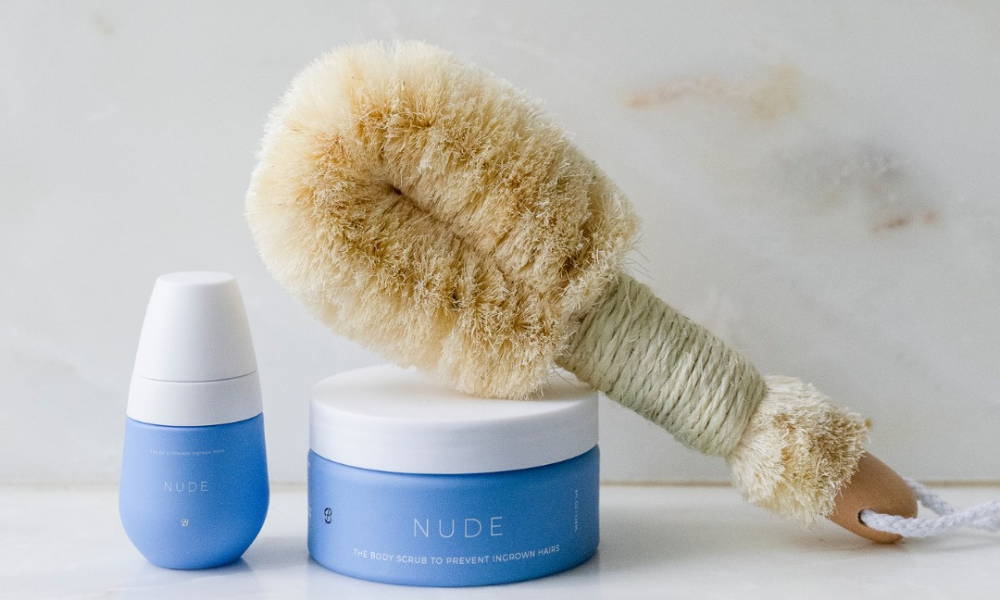 Buzz in the wellness space has recently opened to more personal and traditionally private topics like tummy issues, menstrual health and care for down there... and as someone who often needs to add a disclaimer in casual conversations with "T.M.I. ", I am so here for it.  
I've spent summer days at the beach with my friends, each of us raising concerns about our bikini lines or other areas not usually exposed like stretch marks winter made us forget, but we never talk about how we feel better about them, how we take care of them.  
I am elated that terra20 is now carrying Bushbalm, an Ottawa-based brand offering a full line of natural skin care for ingrown hair, razor burn, dark spots, stretchmarks and anywhere else on the body that needs extra care.  
Most of us face the same body care challenges, with grooming or otherwise, so why wouldn't we talk about it? Brands like Bushbalm are normalizing the conversation and offering us healthy, scrumptious products made with quality ingredients promoting confidence and self-care. 
Sweet Escape Body Oil and Body Scrub has a signature soft and sweet aroma of tangerine and vanilla, like a creamsicle. The Nordic Dry Brush helps exfoliate the skin and reveal smoother, more radiant looking skin.  
Q & A: Rachel Kerr from Bushbalm recently answered some of
my burning questions about the brand (insert razor burn pun):


Jojoba is my favourite skin care oil of all time. It's also a key ingredient in many of Bushbalm's products. What made jojoba oil stand out in your formulation process?
There are so many reasons why Jojoba Oil is such a stand-out ingredient, but we ensured it was a staple in our base formula because it mimics the human's natural sebum on the skin, so when it's applied, the skin can't tell the difference between the two. This makes it less likely to clog pores, leading to fewer ingrown hairs and breakouts.
I'm super excited to try the Bushbalm Tush Cream. Can it be used on stretchmarks and cellulite anywhere on the body? 
We made Tush Cream specifically for - you guessed it - your Tush. That said, similar to our other products it is totally safe to use this hydrating body cream anywhere skin needs a re-energizing boost. Tush is expertly crafted with coffea arabica seed, which naturally boosts collagen and elasticity—the key to firming and lifting. It's also brimming with brazil nut oil which is rich with antioxidants that visibly tighten and tone.  
When it comes to moisture, mango seed butter is the star of the show. It's lightweight and smooth, melting into the skin for a visibly softer appearance, which can be helpful when it comes to stretchmarks and cellulite. Also, Tush smells amazing.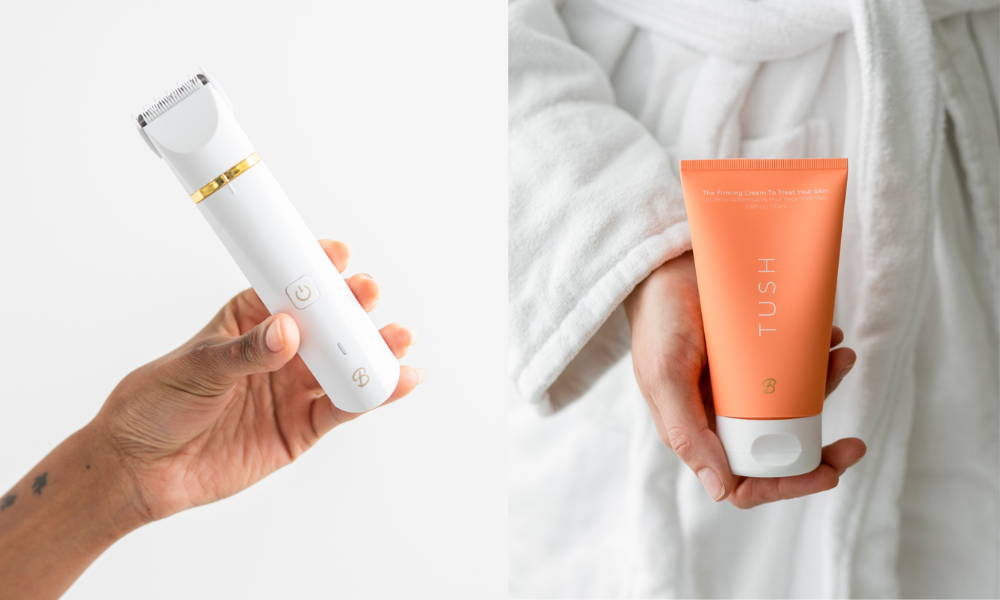 The Francesca Body & Bikini Trimmer won the 2022 Chatelaine Beauty Award for Best Grooming Accessory. What sets it apart from other trimmers?
The Francesca Trimmer was designed with comfort in mind, making it easy to use whether you trim, groom, or remove your body hair. It comes with a pre-wax and shaving guard that allows you to decide the optimal height of your body hair.
Our trimmer is cordless so you can take it anywhere and use it freely. It's also waterproof and has a 5-hour battery life. Another differentiating factor is how sleek it looks and how loved it is on TikTok. It's gone viral multiple times for many of the reasons I mentioned above.
What would be the dream routine for trimming the bikini area to avoid irritation and razor bumps?
The dream routine for trimming your bikini line includes a few steps and additional products. You'll want to start by first cleansing the area with a pH balanced body wash. This first step is crucial for a few obvious reasons but will notably soften your pubic hair before you start trimming. For the second step, you're going to want to exfoliate your bikini area to buff away dead skin and unclog your pores (using an exfoliator like the Nude Exfoliating Body Scrub). Once you've rinsed off the body scrub it's time to start trimming. Since our trimmer is waterproof, you can do this right in the shower if you'd like. Once you are done, dry off and quickly apply one of our soothing oils to lock in moisture, prevent ingrown hairs, and keep your skin and hair soft.
Many of us are sensitive to irritation from products that go near our bikini area. What sets Bushbalm apart from traditional drugstore products that contain ingredients like SLS? 
We know the bikini area is home to extra sensitive skin and while traditional chemical-based products may help with irritation down there, they don't always feel so good on your skin. We've developed a full body care line that naturally improves the look of common irritations like ingrown hairs and razor burn. 
 Within this line of natural products, we've also developed routines for your most sensitive areas like the bikini line. When you are consistent with your routine you can help prevent irritations like ingrown hairs and razor burn from happening in the first place. 
Why are natural ingredients important to Bushbalm? 
Due to most of our target concerns being in sensitive areas of the body, it's important to use natural/ naturally derived ingredients as they tend to be less abrasive and more soothing on the skin. 
However, it's important to note that just because it's natural doesn't mean it's good for your skin. So that is why we invest in research and working with the best raw materials partners and chemist professionals, ensuring that what you are putting on your skin is safe and not going to irritate the skin further but also provide real results.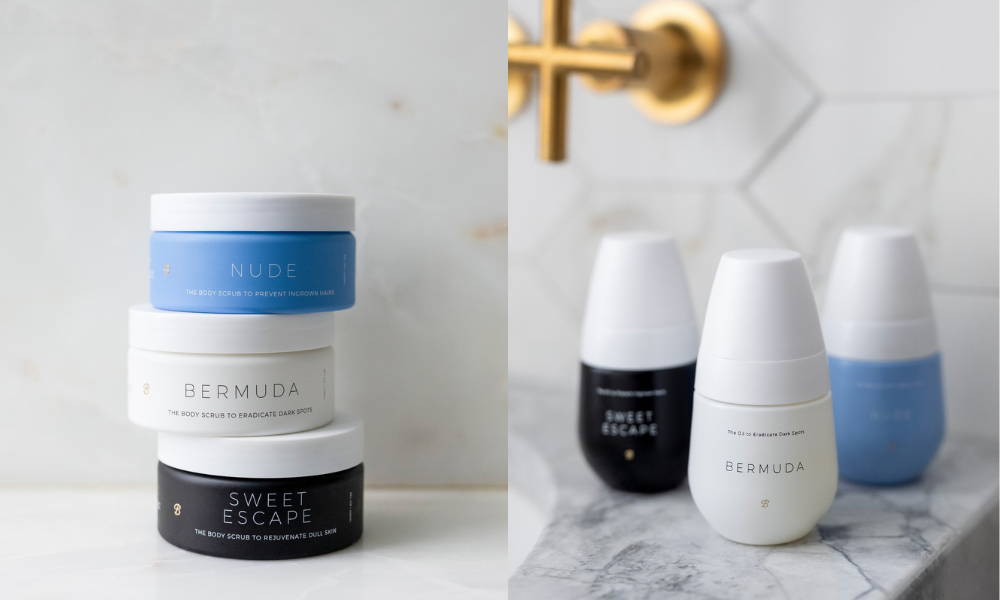 Targeting specific skin care concerns like ingrown hair and dark spots, Bushbalm's scrubs and body oils are safe to use on all skin types and everywhere on the body, even the most sensitive areas.
---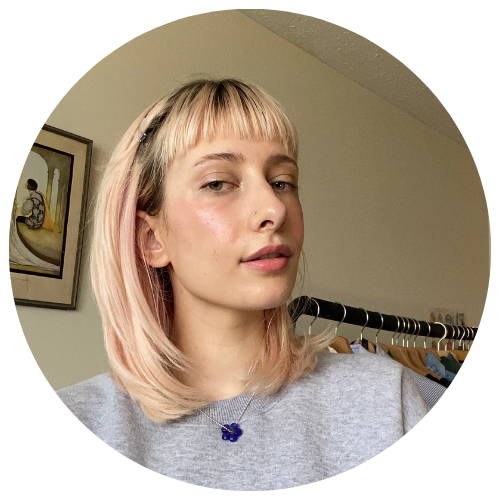 Corey Somerville
Hi, I'm Corey. I'm the Marketing Coordinator and Social Media Manager at terra20 and a true wellness convert. I'm so obsessed with all-things clean beauty that I'll talk to the wall about my skin care routine… seriously it's really good. My love interests include: all vegan food, supporting my community, cat memes and Joey Ramone. 
Follow terra20 on social!