Yes, You Need to Exfoliate in the Winter. Here's Why.
It's easy to feel blah in the harsh winter months: my mood and my skin are both feeling a little more sensitive than usual. I find that it's more important than ever to stick to a skincare routine even when I don't feel up to it.
One component of a solid skincare routine that's often neglected in the winter is exfoliation. When our skin is already feeling brittle and dry from a lack of moisture in the air and exposure to the elements, it feels counterintuitive to irritate it further. If that sounds like your mindset, stop right there! Exfoliation helps your skin by removing dead cells, which are even more plentiful coupled with the dehydration that comes from cold winds and stuffy indoor heating. By purging your skin of these dead cells, your skin will be brighter and your moisturizer will be more effective.
Exfoliators can take two forms: physical and chemical.
Physical exfoliators work exactly as the name suggests: small particles found in the product purge the skin of dead cells by literally scrubbing them away. If you've ever used a nice smelling scrub or a shower pumice stone, this is a skincare step you're already familiar with.
Don't let the 'chemical' component of chemical exfoliation throw you off. Chemical exfoliators use acids commonly known as AHAs and BHAs to literally disrupt the bonds that tether dead skin cells together. These chemicals are often derived from natural sources like plants and fruits.
When you start exfoliating, it's important to remember that these products are effective because they cause some short-term stress to the skin, so it's important to use them in moderation. I personally only use an exfoliant twice a week at a maximum, and always moisturize thoroughly.
When using a physical exfoliant, make sure to use a super duper light touch during application. Rub in small circles using the tiniest amount of pressure to promote great circulation while also being careful to not cause microtears in the skin from being too firm.
Meanwhile, there's a huge range of chemical exfoliants out there, and finding the right compound for your skin can take some trial and error. I did a ton of homework when I started getting into chemical exfoliants, and once I found an ingredient list that lined up with what I was hoping to accomplish from a skincare routine, I made sure to start with a product that used that compound in a low percentage no more than once a week to ensure that it wouldn't be too much for my skin. Pro tip: It's normal to feel a slight tingling when using a chemical exfoliant, as long as it doesn't feel like a burning sensation-- like all skincare products, there's always a chance of a reaction based on the unique needs of your skin type.
Both styles of exfoliation have merit, and choosing a product that works best is totally based on your skin type and level of sensitivity. Physical exfoliants are often a great choice for those with stronger skin less prone to sensitivity, while chemical exfoliants are often a great fit for those prone to skin irritations or with an oilier skin type.
Those parameters work well as a rule of thumb, but it's important to remember that everyone's skin is unique. If you're unsure about what style of exfoliation is best for you, make sure to do a patch test or consult your dermatologist.
I personally incorporate both chemical and physical exfoliants in my routine. The Cyberderm Exfoliant Reveal is a clean chemical favourite of mine because of its small ingredients list, and because glycolic acid is an ingredient that I find to work really well for my skin. The Urban Spa Facial Buffer, on the other hand, is an affordable and portable physical exfoliant option-- you literally just need to add water to the sponge and let it do the rest!
Don't forget about your body!
When it comes to keeping your body smooth and hydrated, scrubs are still king! I absolutely love using a decadent, great-smelling scrub as part of my skincare routine. If that sounds like your jam, the Basd Indulgent Creme Brulee Coffee Scrub will be right up your alley. Seriously, just stop and imagine for a moment how good that must smell.
No skincare routine is complete without a great moisturizer to restore hydration and soothe any irritation. In the cold weather, I love to use a moisturizer that incorporates ultra soothing ingredients like shea butter, like the Green Beaver Boreal Body Lotion. This is a great vegan option made using extracts from organic farms.
Exfoliation can make all the difference in your skincare routine, especially in unpleasant weather conditions. Stay warm and moisturized out there!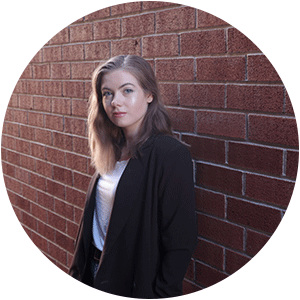 Vicki Laninga
Vicki is a Content Strategist, Blogger, and Communications pro based in Ottawa, Ontario. She's passionate about helping beauty fanatics find sustainable, vegan alternatives to the products they love without compromising the quality they need.
When she isn't writing (which isn't often!), Vicki loves weightlifting, running, cooking, and spending time with her dog, Monty.