0 comments
/
As we turn our faces to the sun and rejoice in the warmer temperatures, the time has come to update our skin care routine. Raise your hand if you don't know where to start! Skin care aisles can often leave you with more questions than answers, but we're here to help.  
BB creams, CC creams, serums, moisturizers and foundations are a fraction of the categories you will find in skin care aisles, and it's not always clear what product you should use and when. Below we've listed the types of facial skin care, their purpose and when you should use them.  
Purpose: The term face cream can be generic and can refer to any type of cream, lotion or moisturizer you apply to your face. However, they are generally thicker than facial moisturizers.
When to use: Because face cream can encompass a variety of products, it's important to read and follow instructions to ensure it's going to suit your needs. Because creams are thicker, they are best suited to use during colder months when skin tends to need more moisture or as part of your evening skin care routine when you're not trying to apply makeup afterwards.  
Purpose: Serums are designed to do the work a moisturizer can't. A serum is thinner, lighter and contains active ingredients (like vitamin C or hyaluronic acid) that can deeply penetrate your skin to manage specific concerns (like fine lines or uneven skin tones.)
When to use: Serums are recommended for mature skin year-round if you're looking to minimize the appearance of fine lines or even the tone of your skin. In the colder months you may need to use a moisturizer after you apply a serum to help combat dry skin.    
Purpose: Face oil is great if you're looking to soften, balance, or sooth dry or irritated skin. They are great at locking in hydration but don't penetrate your skin as deeply as a serum.
When to use: Try a face oil after you have applied all your other facial products to keep moisture locked in. However, facial oils are best used as part of your bedtime routine because that's when they are most easily absorbed, especially if you're looking to target specific skin issues. If you have acne prone skin a face oil can help balance your skin and replace a moisturizer or cream.    
Purpose: A BB cream is an all in one hybrid that provides your face with the hydration of a moisturizer and coverage of a light foundation. Depending on the brand, some may even include SPF coverage to help protect from UVA/UVB rays.
When to use: BB creams are perfect for spring and summer months when you're looking for light hydration, tinted coverage and protection from the sun. However, if you do have dry skin during the spring and summer months you may need to apply a moisturizer or serum before a BB cream.  
Purpose: The 'CC' stands for colour correction or complexion control.  Similar to BB creams but they offer more coverage to disguise blemishes, age spots and redness.
When to use: If you have mature skin and you're deciding between a BB or a CC cream, you'll want to choose a CC cream. Not only will CC cream protect your skin from sun damage, it can also conceal blemishes, fine lines and age spots better than a BB cream.  
Purpose: Foundation is applied to your face to create an even complexion. It's available in liquid and powder form. More foundations have been adding moisturizing or SPF properties. If the foundation you like to use doesn't contain sun protection, it's recommended you add a base of facial sunscreen before you apply your foundation.
When to use: Foundation is a personal choice. If you find one that works for you and you like the way it looks, then give yourself a high five.
Purpose: A toner is applied after you've used a cleanser but before you apply a cream or moisturizer. It's a fast absorbing, astringent liquid that helps remove access dirt, oil or traces of makeup. It can also help reduce the appearance of pores. 
When to use: Toners are helpful for oily or acne-prone skin, or they can help cleanse your skin after wearing makeup or heavy moisturizer. Some toners can also double as a spray to help set your makeup.
Purpose: Facial mists can have a few different uses, they can add a boost of hydration, prep your skin for makeup, help set your makeup or can be a refreshing afternoon pick-me up.
When to use: If you're using a face mist to add hydration, spritz right after using your cleanser and before you apply any other product. Depending on the face mist product you choose simply follow the instructions on the label.
Of course, everyone's skin care needs are unique, we recommend visiting a terra20 location and speaking with one of our beauty and skin care experts to help you find the products that are right for you. For a list of terra20 locations, click here.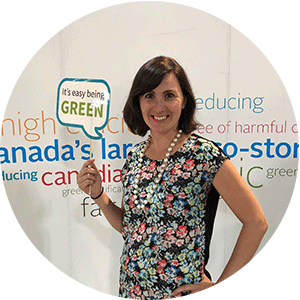 Erin Forget
Erin is terra20's Marketing Coordinator. When she's not navigating the healthy living retail landscape she enjoys spending time in nature with her two dachshunds, archery, cultivating her vegetable garden and creative writing.
Comments