3 Reasons to Switch to Safety Razor Shaving
4 comments
/
Unlike haircuts or using skin care, shaving has always been a chore for me. When it comes to self-care and grooming, I would gladly take any task over the inevitable nicks and bumps that come with shaving. That was until I was introduced to Rockwell Razors.
Safety razors are often intimidating to most of us. They can be perceived as expensive, premium, and even dangerous. The truth is, not only are Rockwell razors none of those things, they actually make the shaving experience enjoyable! No longer do I put up with an unruly amount of stubble growth before begrudgingly reaching for a dull blade I haven't changed in far too long. Shaving time is now Nick time, and I'm excited to tell you why.
Before I get into why Rockwell Razors are better for the planet, your wallet, and your face, let's dive into a quick breakdown on what they're all about.
Rockwell is on a mission to provide a real alternative to overpriced cartridge razors and wasteful shave clubs. They've essentially taken your grandpa's double-edge razor and given it a complete redesign. The result is a durable, easy-to-use razor that is a completely zero waste way to shave. Not to mention, it doesn't look half bad on your bathroom counter.
terra20 offers three different razors. The R1 is fantastic for beginners, with a micro comb design that makes it virtually impossible to cut yourself. Its butterfly-style head also makes it easy to load the blade.
The 2C is perfect for budget-conscious shavers and includes two of Rockwell's most popular blade settings: 1 and 3 (ranging from thin to normal facial hair stubble).
Lastly, the 6C offers...you guessed it - 6 adjustable plates to tackle all stubble types! Whether you have thin, passable facial hair, or thick coarse scruff like me, the 6C has you covered.
Reason #1: Shaving the Planet
The EPA estimates that nearly 2 billion razors end up in landfills each year. Razor blades will typically rust away and leave behind plastic casings for years. Unlike plastic razors, Rockwell safety razors are made of steel and built to last a lifetime.
If you do wish to part ways with it, most metal scrap yards would be happy to take them off your hands. Another option is to purchase a blade bank, which is a simple safe place to store razors until you're ready to recycle them.
Reason #2: Let's Talk Money
Using safety razors is a classic example of how green products save money long term. Rockwell blades last between 4-8 shaves, which means a 20 pack at $9.99 should last over 100 shaves. Contrast that with Gillette's blades, which last between 5-10 shaves and cost an average of $39.99 for an 8 pack...you do the math.
Admittedly, there is an up-front cost if you opt-in for the Rockwell 2C or 6C razors, however the long term value is mathematically a no-brainer. That's in addition to the fact that straight razors are more sustainable and produce a far closer shave.
There's an analogy barbers tend to make that refers to clean cuts feeling like a hot knife through butter. The same can be said about using straight razors; Rockwell's Pure Swedish Stainless Steel Razor Blades undergo a specialized treatment to prevent rusting and maintain sharpness for up to 8 shaves. The feeling of effortlessly gliding through a few days of stubble is well...pure butter!
So there you have it. Straight razors are a great way to make your personal care routine more sustainable and enjoyable. Not only do Rockwell straight razors produce a close shave, they do so without the expense to the planet and your wallet. Get started today with the Rockwell R1 and become a part of the straight razor revolution!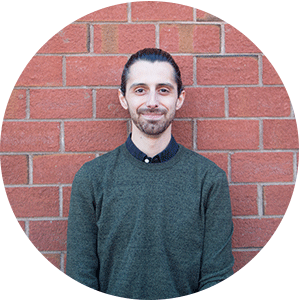 Nick Turenne
Nick Turenne is the Marketing Manager at terra20. He's passionate about showing others how small changes to everyday habits can have a big impact on the planet.  
When he isn't spreading the word about health and sustainability, Nick loves playing music, running, cooking, and spending time with his dog, Monty.
Comments