The winning sustainable stocking stuffer combination for every budget
0 comments
/
Stockings are one of my favourite holiday traditions. I love the experience of curating an assortment of goodies that remind me of the special people in my life.
My approach to stockings is always to keep them personal, useful, and affordable. With a little preparation and planning, your stockings can be a cherished part of your holiday traditions without compromising on sustainability or a reasonable budget.
Gift sets are your friend
My preference with stockings is to include a spread of smaller goodies, rather than just one or two larger products. Travel and sample size products are a great way to get an assortment into a stocking, and there's no better way to maximize your spending than through gift sets. These samplers are everywhere during the holiday season, and they're a great way to share the top products from a brand.
One of my favourite picks this season is the Derma E Perfect Travel Set. Derma E is one of my tried and true skincare brands, and this kit includes three of their top products at a dang good price. The kit also comes packed in a TSA-approved makeup bag, making it an awesome zero waste option.
Pro tip: To save space and leave more for your loved ones to open, take the products out of the packaging before you add them to the stocking! If you're stuffing multiple stockings, you can use this trick to spread well-priced products out.
Remember the days when we all used to dread getting socks in our stockings? Those days are long gone. Here's the boring truth: I get the most excited about the most simple gifts during the holidays. I'm talking about the practical, useful stuff that I can't stand buying for myself. This gesture goes such a long way throughout the year.
Gifts like toothbrushes and lip balms are not only affordable, they're guaranteed to be used! While the price tag on these essentials is low, they make a big difference and show that you're looking out for your loved ones.
Is a stocking ever complete without some snacks? Munching on sugar way too early in the morning is just part of my holiday tradition. You can't go wrong with topping up a stocking with festive treats.
If you have the time, baking your own cookies or sweets is a great way to save a little cash. Arrange them in a festive tin for a meaningful and zero-waste stocking addition. If you're like me (a procrastinator and a terrible baker), there's no shortage of pre-made options. You can't go wrong with some festive (and vegan) chocolate like the Zazubean Vixen Bar-- or, for the grown ups, a locally-made cocktail mix to sweeten up those holiday drinks.
We might have a snowy winter in the forecast, but with a little bit of planning, you can have a green Christmas in all the right ways. What are your top stocking stuffer picks? Share your thoughts in the comments!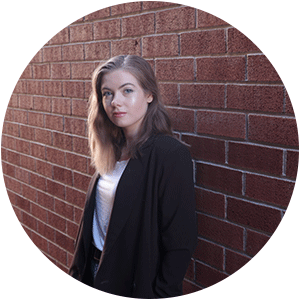 Vicki Laninga
Vicki is a Content Strategist, Blogger, and Communications pro based in Ottawa, Ontario. She's passionate about helping beauty fanatics find sustainable, vegan alternatives to the products they love without compromising the quality they need.
When she isn't writing (which isn't often!), Vicki loves weightlifting, running, cooking, and spending time with her dog, Monty.
Comments