Rethinking Healthy Resolutions in 2020
1 comment
/
Another year, another gym membership, and another dabble into the latest health food trend. Don't get me wrong...as an avid runner and lover of plant-based foods, I understand that maintaining a regular exercise routine and balanced diet is absolutely essential to a healthy lifestyle; but is that all there is to it?
Lately, I've found myself wondering what it truly means to live a healthy lifestyle. Should that also encompass mental health, what you put on your body, or better yet - what you put back into the earth?
2019 saw a shift in the way that Canadians think of health. We've expanded what it means to live a healthy lifestyle by having conversations on the value of mental well-being, sourcing ethical everyday products, and turning up the dial on climate action. This year, I'd like to keep up that momentum by suggesting three ways that we can rethink our healthy resolutions.
#1: Make Time for Wellness
Think about this: the first iPhone was released in 2007. Instagram, one of the most popular social media platforms, was launched in the last decade. Even if you don't consider yourself an avid-tech user, it's impossible to deny how fast technology has come to define modern life. We now live in a world where we constantly feel the need to be plugged in and up-to-date.
That's why it's more important than ever to unplug and create your own escape from all the noise out there. Consider practicing mindfulness by meditating for even a few minutes a day. Take up a yoga class, where you're forced to disconnect and become in-tune with your body. Or better yet, fire up your diffuser, add some essential oils, put the kettle on, and crack open a good book. Disconnecting for even a small amount of time each day can do wonders for your mental well-being.
#2: Swap Everyday Essentials
We all know it's important to ensure what you put into your body is rich in nutrients, but what about what goes on your body? Products we use everyday are often filled with ingredients that are harmful to our health. Whether it's skin care that contains endocrine disrupting preservatives, or bath products that contain irritating emulsifiers, it's important to consider what goes into our personal care products.
terra20 offers a list of banned ingredients that you will never find in any of our products. This year, consider swapping out some of your everyday products for healthier options, whether it's hair care, body care, or face care! Remember that small changes are meaningful and opting for healthier personal care at your own pace is admirable on its own.
#3: Take Small, Sustainable Steps
With the rise in concern over single-use plastics and climate change, it's no wonder environmental issues emerged as a key ballot-box issue for Canadians in 2019. While it's easy to feel overwhelmed by how you can make a difference, one resolution within your control is to take small steps toward reducing your waste.
Whether it's switching to reusable straws, storing food in beeswax food wrap, or using refillable products, these small actions can collectively make a difference. I saw a sign that summed this up nicely during September's Climate March that read: "'it's only one straw,' said 8 billion people." So this year, start by replacing one piece of plastic in your life and build from there!
Those are just a few tips on how we can rethink what it means to live a healthy lifestyle in the new year. I hope you'll consider these when building your 2020 resolutions list and I wish you all the best on your journey to a healthier lifestyle this year!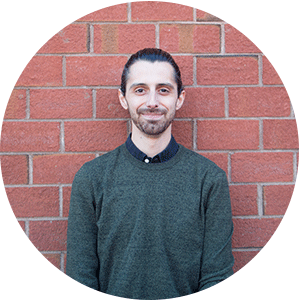 Nick Turenne
Nick Turenne is the Marketing Manager at terra20. He's passionate about showing others how small changes to everyday habits can have a big impact on the planet.  
When he isn't spreading the word about health and sustainability, Nick loves playing music, running, cooking, and spending time with his dog, Monty.
Comments