Hands up in the air for Routine Deodorant
3 comments
/
Now, promise me you won't roll your eyes when you read the following two words: NATURAL DEODORANT. I know many people struggle to find 'the one' that works for them, and I'm here to help. Everyone's body chemistry is different and will react differently to ingredients - that's what makes it hard to find the one that works for you. But I want to assure you that natural deodorants do work; you just need to find the one that works for you.
I've been with terra20 for just over seven years now, which has given me the unique opportunity to try A LOT of natural deodorants and have conversations with fellow employees and customers about their experiences with natural deodorant. And let me tell you, there is always one brand that comes out smelling like roses.
Let me introduce you to Routine
This natural cream deodorant was born at the base of the Rocky Mountains in Calgary, Alberta by sisters Neige and Pippa. They are committed to maintaining a strong connection to the community with deodorants that are ethically crafted to keep us healthy and our environment happy.
You won't find any nasty ingredients like aluminum zirconium, aluminum chlorohydrate, parabens, triclosan, or propylene glycol in their products. They are made using clean, wholesome ingredients in Canada. (YAY!)
Routine makes cream deodorants in 13 different scents and 5 formulas including vegan, sensitive skin (free from baking soda) and activated charcoal, so they are sure to have one that will work for you.
Natural deodorants, like Routine, contain ingredients that are good for your skin, like coconut oil, shea butter, and vitamin E (to name a few.)
I don't want to scare you, but another way to look at it is why you should NOT use conventional deodorants. The majority of conventional deodorants that you find on drug store shelves contain aluminum (typically found in antiperspirants), parabens, phthalates, triclosan and fragrance. All have been linked to some concerning health issues. (You can learn more here.)
The low down & application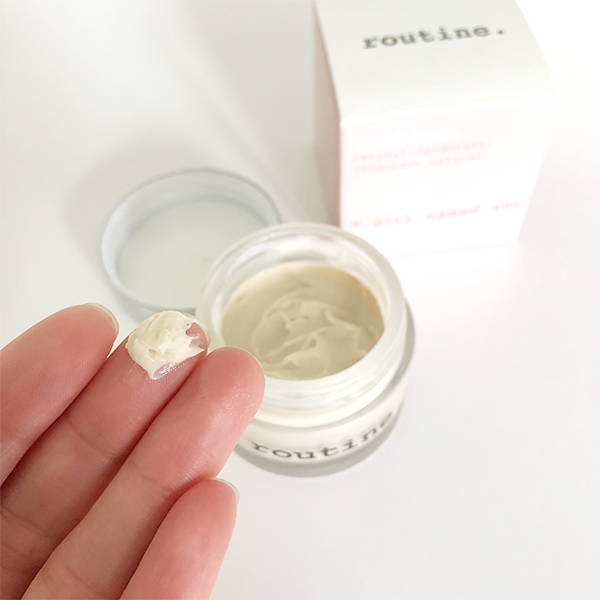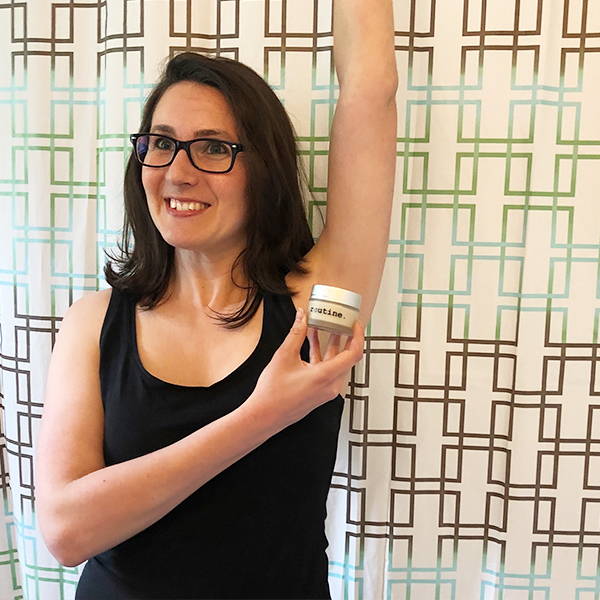 Yes, it's true. You do have to apply this deodorant with your finger, BUT the consistency is so smooth and for the small amount that you need, it really isn't a big deal. Once you get used to it you stop thinking about it.
With a price tag of $29.99 for 50ml, you'll be glad to hear that one jar will last you 3-6 months. I bought a jar at the end of October and I had to buy a new one in early March, so it averages out to $7.50 a month.
Time after time my go-to scent is A Girl Named Sue, which has a clay and beeswax formula. I love the subtle smell of raspberry and sage. And my second fav is Like a Boss, because who doesn't want to smell like a boss?
If you've made the switch to natural deodorant trying Routine should be easy peasy. And if you haven't tried a natural deodorant before I recommend transitioning with Routine. Plus, if you ask nicely terra20 associates in-store can provide you with a sample.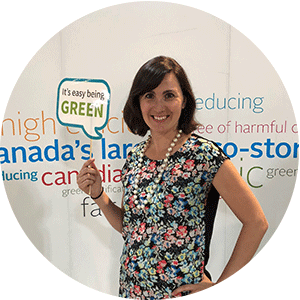 Erin Forget
Erin is terra20's Marketing Coordinator. When she's not navigating the healthy living retail landscape she enjoys spending time in nature with her two dachshunds, archery, cultivating her vegetable garden and creative writing.
Comments