6 simple ways to bring the spa to you
0 comments
/
Pandemic? What pandemic? As you begin to read this blog, I want you to take a deep breath, hold for a second and exhale. For the next three to five minutes, forget about our troubles, we're all about good, relaxing vibes. With longing for those spa days spent basking in the waters at Le Nordik, relishing in the scent of a wood burning stove or reminiscing about a deep tissue massage, I thought it would be fun to talk to our staff and share with you how they make time to relax and bring elements of the spa home.
The importance of taking time to relax
It's too easy to dwell on the woes of the world right now, and technology and apps surrounding us don't help (I'm talking about you Facebook). Our bodies and minds need a break. Making time to relax not only allows you to escape stress, it also has a positive impact on your health, like increased blood flow for more energy, slowing your heart rate, and improving digestion, to name a few.  
Whether it's taking a few minutes every day or an hour at the end of your week, you need to find the routine that works for you. And as I chatted with staff, I soon learned there are many simple elements from the spa we can introduce into our own lives to help us relax a little bit more. 
Create an ambiance.

 

Kas, terra20 Train Yard

s owner and store manager suggests dimming th

e lights, plug

ging

in a salt lamp or diffuser or light

ing

 

a warming beeswax candle. Once you have your space

set for relax

a

tion, cuddle up with a cup of tea and a book

,

or if you're like Kas, and

miss game

s

with friends,

organize an online game night.

Kas's

 

fave

? A night

of dwarven dungeon raiding

in

Dungeons and Dragons. He mentioned it pairs

lov

ely with a cup of

Sarjesa Earl Grey tea. 


 

 
Craft the perfect soak.

 

There is a vast assortment of bath soaks, salts, and bombs a

vailable at terra20, so you're sure to find one that suits your fancy.

t

erra20's graphic designer,

Liv

, recommends

 

Bathorium's CRUSH Charcoal detox soak.

Epsom salts and

French

sea salts relax your aching muscles while a skin softening coconut milk envelops

your entire body.

While you

let your

worries melt away listen to

a juicy

podcast.

Liv

loves

True Crime

. Once the

episode

has ended and your soak is complete

massage a lotion or oil into

your skin

for added hydration

. Might we suggest Birch Babe's Warm Vanilla Body Oil.  


 
Fifteen-minute

f

acial

.

 

Young kids, online school, work, chores - f

inding yourself short on time? Keep things simple with a facial mask paired with

a relaxing tea

.

Bojana, terra20's inventory manager

recommends

Cocoon Apothecary

's Ancient Mud Mask.

She adds, that not only does this mask feel amazing but it smells even

better. The scent alone will put you in a great mood.

If your mask is part of your night time routine pair it with

Yogi's Restful Sleep tea.

Fun tip: Mail a facial mask to your best friend and pick a night to do them

together and catch up over FaceTime.

 


 
Eucalyptus everything

.

If there was one scent to

embody the spa experience it would have to be eucalyptus.

Not only does the scent help promote relaxation, it may

help

relieve cold symptoms.

When I spoke with Jewelle and Kayla, member

s

of the management team at terra20 Pinecrest

, they could

n't

say enough about this enchanting scent. Jewelle

recommends keeping a eucalyptus plant in the bathroom

to enhance your shower experience. And Kayla loves

Buck

Naked's Eucalyptus and pink clay sugar scrub

for a quick

,

 

spa-like

moment

.

 


 
Cut down

on

screen time

.

 

Among staff, this point was unanimous.

The number one way to help relax is to put down the phone

or tablet more often. This is especially true before bed.

If you make it a rule to not be on your phone one to two hours before you go to bed chances

are,

you

'll have a more restful sleep.

And who wouldn't love better sleep?

 


 
Night time skincare routine

.

Looking for a quick and easy relaxation routine you can successfully integrate into everyday life?

 

A simple

nighttime

skincare routine might be for you.

Kaylie,

terra20's corporate orders coordinator, ch

e

rishes

her five

-minute

s

before bed.

Once you find a gentle cleanser and skin cream or night oil

you love, it's something to look forward to at the end of the day. Plus, when you wake up your skin will be glowing. Kaylie reco

mmends

Routine's Golden Slumber Night Oil.

 
Want to take your at home spa experience to the next level? Check
these video blogs.
Alexa, owner and manager of terra20 Hintonburg, can't live without this facial exfoliator or from marketing, Carolyn's highly recommended hair mask for soft, defining curls.
Have you found a relaxation routine that works for you? Or have a favourite DIY at home spa tip? We'd love to hear it. Share it in the comments below. Now, does anyone know where I can buy a eucalyptus plant?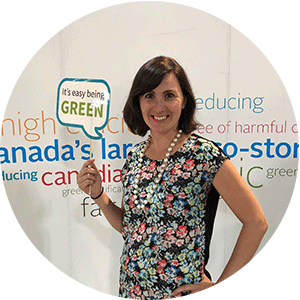 Erin Forget
Erin is terra20's Marketing Coordinator. When she's not navigating the healthy living retail landscape she enjoys spending time in nature with her two dachshunds, archery, cultivating her vegetable garden and creative writing.
Comments