1 comment
/
There's a lot to like about bees. If we didn't have bees we wouldn't have honey (obviously) but the list of crops that are pollinated by bees is an extensive one. You might be surprised.  
Can you imagine a world without any kind of squash, nuts, melons, berries, almonds, peaches, pears, cherries, apples. And that's just skimming the surface. Not only do bees play a critical role in our environment, but in our economy as well.
Did you know that there are 20,000 known bee species worldwide and more than 800 native bee species in Canada? We have big bees (honestly, HOW DO THEY FLY?) and small ones. The smallest is the size of the head of a pin.
Unfortunately, bee populations are in decline due to habitat loss, pesticide poisoning, and disease.
Here are a few easy ways you can help the bees!
Choose bee-friendly plants the next time you're filling your flowerbeds. Better yet, divide and swap cuttings and seeds with friends and neighbours. It's cheaper, and maybe even safer! In 2018, some garden centres were caught selling flowering plants that were found to have residue of banned pesticides, including bee-killing neonicotinoids. (You can read more about that case here.)
Opt for a diversity of flowers that bloom throughout the growing season. The Honeybee Conservancy recommends crocus, hyacinth, borage, calendula, wild lilac, bee balm, cosmos, cone flower, snapdragons, foxglove, zinnias, sedum, asters, witch hazel, and goldenrod. The bees in our garden are wild about globe thistle.
No time for flower beds, no problem! Fill your planters with bee-friendly annuals, herbs, and edible flowers such as nasturtiums. Every little bit helps. (I like to think of my planters as small fuel stations.)
You can also turn your lawn into a bee-friendly habitat.
Dandelions are often seen as a nuisance but it's time to change our point of view. They're not weeds, they're a life saver for bees and other pollinators! Dandelions are often the first flower to pop up after a long winter, so don't mow them over too quickly. Leave them for the bees while other flowers come into bloom.

Mix some clover seed into the grass seed if you're fixing up bare patches on your lawn. Diversity in your lawn is good for the soil as well as the bees.

Avoid using pesticides and herbicides on your lawn, as they are toxic to bees and other beneficial insects.
 There are other things you can do if you really want to build a bee-friendly habitat!
Build a bee bath
Our garden is a little on the wild side, so we've got the food supplies covered. I also like to leave them some water, especially during a drought. Bees get thirsty! I've seen bees drinking on the edges of our bird bath but I also leave water for them in a shallow dish with rocks and marbles as landing pads. (I've seen butterflies drink out of it too!)
Give them shelter
While you can't have a beehive in urban Ottawa (believe me, I checked) you can still give bees a good home. It depends on the kind of bees, but some like to burrow in a patch of sunny soil, while others will make good use of a compost pile by sheltering in hollow stems and rotting wood. Leave out some sticks, refrain from raking, and don't spray. If you leave a corner of your yard a little messy, you'll be helping the bees! (Lazy gardeners, it's time to rejoice.)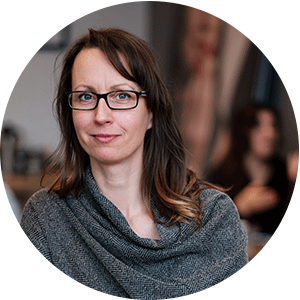 Andrea Tomkins is an informavore with a passion for social media and multimedia storytelling and a veteran of the Canadian blogging scene. First conceived in 1999, her blog – a peek inside the fishbowl – has been featured in notable publications such as the Toronto Star, Chatelaine, and The Globe and Mail. Today, she loves to write about healthy living, arts and culture, family travel, great gear, and good food.
Comments