5 Small Actions for the Planet
3 comments
/
The environment has been in the news a lot lately: Stories about international climate change rallies, Greta Thurnburg, the recent federal election, the state of the Amazon rainforest. It seems like more people than ever are talking about our growing climate crisis.
The public is demanding change from politicians as well as businesses, and terra20 is continuously looking to make its processes less impactful on the environment. One way they've done so is by incorporating sustainable elements into the construction of their stores:
Have you ever noticed that terra20 stores have larger than normal windows? It's not just an attractive design choice. Natural daylight is inexpensive and efficient!

Did you know that terra20 reuses all packaging materials from vendors for online orders?

ecobar dish soap overflow is collected and used in the stores. Nothing is wasted!

The materials they use when building and finishing terra20 stores include: bamboo plywood; LED lighting; low flow water fixtures; low-VOC finishes, paints, sealants, and adhesives; millwork from salvaged logs. This makes for a   healthier store environment for staff and shoppers alike.
terra20 staff also work hard to reduce their own personal carbon footprint. They've shared some of their tips and good practices with me so I can share them here with you:
Instead opt for a drying rack, or hang your laundry outside. (As a bonus, your laundry will smell amazing.)
#2. Embrace alternative methods of transportation
Carpooling with colleagues and friends is social, saves money, and cuts down on pollution. Reducing emissions reduces our carbon footprint, and saves money too. Simply driving less makes a huge difference, and fewer cars on the road is a good thing.
One terra20 staff member has gone from two cars to one. Yay! Every little bit helps. And if you live in the city, you could hop on your bike instead. Not only is it good for the environment, it's good for your health too.
#3. Check the label on your clothing
Research eco-friendly materials and support brands that use sustainable textiles. (Hemp is a great alternative to cotton!) Clothing swaps are a great way of reducing the amount of textiles that end up in a landfill too.
#4. Change your eating habits
Shopping seasonally at farmers' markets is a great way to support local suppliers. And if the produce doesn't have to travel far, there are fewer emissions involved in the process.
Meat production uses a lot of resources, so consider eating less of it. (Hello Meatless Mondays!) One staff member has reduced red meat intake to only twice a month. A few staffers have also chosen a 100% plant-based diet.
Not everyone can do a grocery shop that's 100% organic, so consider buying one organic product every time you shop. As consumers, we wield a lot of power! Whether we choose organic chocolate, ketchup, or salsa, we are voting with our dollars and throwing our support behind a better option.  
#5. Consider sustainable home renovations
Use FSC certified wood. Forests play an essential role in regulating the earth's climate by removing CO2 from the atmosphere. Irresponsible forest management, which often includes deforestation and large clearings often releases large amounts of carbon into the atmosphere. FSC's responsible forest management standards strike a balance between harvesting resources for human use and maintaining forests to ensure they fulfill their role as carbon capturers.
You can also:
Install a smart thermostat and program it around your sleep/wake and home/away times.

 

Upgrade your appliances, windows and insulation for ones with improved energy ratings. (Me, I try to "trade up" when things wear out. For example, when our gas lawn mower died we did some research and bought a rechargeable mower that is powerful enough to take on the densest patch of dandelions. My husband and I are so glad we did!)

Incorporate recycled or second-hand building materials where possible. (Make sure you check out the

ReStore

!

)
What do you do to reduce your carbon footprint at home? I'd love to hear about it. Leave your comments below.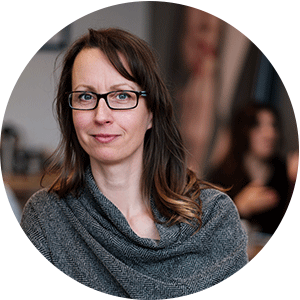 Andrea Tomkins
Andrea Tomkins is an informavore with a passion for social media and multimedia storytelling. She is the editor of a community newspaper in Ottawa as well as a freelance writer. She's also is a veteran of the Canadian blogging scene.
First conceived in 1999, her blog – a peek inside the fishbowl – has been featured in notable publications such as the Toronto Star, Chatelaine, Canadian Family Magazine, and The Globe and Mail. Today, she loves to write about healthy living, arts and culture, family travel, great gear, and good food.
Comments