Easter Egg Blondie Recipe
0 comments
/
Easter is quickly approaching, the ground is thawing and flowers will soon be blooming. To celebrate Easter, here's a fun and creative recipe to try at home! terra20 has so many great baking ingredients and tools, so we've put together a few products you can use for this recipe. The cookie cutters used for this recipe are 2.5 x 175 inch eggs, but you are welcome to use various shape and/or sizes.
Recipe makes 10 (2.5 x 1.75 inch) blondies
Ingredients
½ cup unsalted butter, melted
1/2 cup brown sugar
¼ cup granulated sugar
1 large egg
1 tsp vanilla extract
1 cup all-purpose flour (or 1:1 gluten free flour)
¾ cup semi-sweet chocolate chips (we used the Camino chocolate chips)
Chocolate Ganache
1 1/3 cups chocolate chips
1 cup heavy whipping cream
Toppings: Salted Caramel Chocolate covered marshmallows, sprinkles and icing gel.
Directions
Preheat oven to 350°F. Line a 8x8 inch pan (or 9x9inch) with parchment paper or grease.
In a medium bowl, combine the butter, brown sugar and granulated sugar and mix.
Add in the egg and vanilla extract and mix. Add in flour and combine.
Add in semi-sweet chocolate chips and mix.
Pour batter into prepared pan and spread evenly. If using a 9x9 inch pan, spread evenly but leave a 1 inch perimeter all around.
Bake for 22-25 minutes, until golden.
When the blondies have cooled, use your cookie cutter to cut out the egg shapes.
For the Chocolate Ganache layer - Heat the whipping cream in a small saucepan and bring to a simmer. Place chocolate chips into a heatproof bowl and pour the simmering cream overtop. Let it rest for 5 minutes and then mix until smooth.
Spread the ganache on top of your egg shaped blondies and decorate with chopped up marshmallows, sprinkles and icing gel. Let your creativity flow and have fun! Once the ganache has cooled, they are ready to eat!
Enjoy!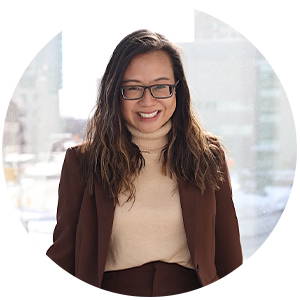 Olivia Lam
Olivia is a home baker and recipe developer in Ottawa, ON. She's passionate about incorporating local ingredients and highlighting them in her baked goods. She strives to create intriguing recipes and constantly challenges herself to expand her skillset. You can follow along on her baking adventures at @inspiringolivia on Instagram or over on her blog at Inspiringolivia.com
Comments