3 Back to School Recipes You Can't Live Without
0 comments
/
Although the leaves have yet to change, the mornings are starting to get cooler and the days a little shorter. We are quickly realizing that we can't stop the inevitable - the back to school season. It's always a little sad to say goodbye to summer, but at the same time, back to school is an exciting time for fresh starts and new beginnings.
There's no hiding it; at terra20 we get pretty darn excited about providing our guests with the best tools for the season ahead. With good nutrition and education going hand in hand, we are passionate about filling bellies with delicious and nutritious food (as well as providing you with an impressive selection of zero waste lunch containers).
Finding foods to comply with all the classroom dietary restrictions can be so daunting, so we are here to make the process easier on you and your family. Here is my simple lunch packing formula, along with some of my favourite lunchbox friendly recipes from our latest back to school nutrition demo that will satisfy bellies and dietary restrictions. Grab your kiddo and get them involved, you'll have lunches for the week packed in no time.
Creamy Avocado Pasta Salad
This is one of my favourite ways to sneak healthy fats into the mix. The fats found in avocados not only keep bellies full and moods stabilized, but are critical for growth and development. Our brains are composed of over 60% fat so it is so important we included quality sources with every meal. Loaded with immune-boosting garlic and basil, this is a simple recipe to make on Sunday and have throughout the week.
Salad
1 box of Chickpea Pasta or brown rice pasta

1 cup cherry tomatoes, halved

1 green onion, chopped finely

Basil for garnish
Dressing
1 avocado

1 garlic glove

½ cup packed fresh basil

¼ cup sunflower seeds

¼ cup lime juice

½ cup extra-virgin olive oil

Salt & pepper to taste
Instructions:
Boil a large pot of water and cook chickpea pasta according to package. Remove from the boiling water and run under cold water until the temperature of the pasta cools. Set aside.
In a large bowl, combine all the salad ingredients, excluding the pasta. Using a food processor, combine all of the dressing ingredients until it turns to a creamy consistency. You can always add more olive oil If you prefer a creamier dressing.
Pour the dressing over salad ingredients and add in the cooled pasta. Toss to combine and then refrigerate for at least an hour before serving. You can always get creative and add in other favourite raw or roasted veggies!
"Eat Your Greens" Edamame Dip
Disguising one of my all-time favourite superfoods, this beautiful bright green kale dip is loaded with protein, fibre, essential vitamins, minerals and immune-boosting antioxidants. Protein found in edamame is essential for concentration, energy and nearly every function in the body from muscle building to hormone balance. This protein-rich edamame paired with nutrient-dense kale makes for a delicious dip that's satisfying and easy to prepare. This recipe makes a generous amount, so you and your kiddos can enjoy it all week long.  
454g bag of frozen edamame

2 handfuls of washed and trimmed kale

1 jalapeno – seeded

3 cloves of garlic

Juice from 1 lemon

¾ cup extra virgin olive oil

1 tsp sea salt

Pepper to taste
Instructions:
Cook frozen edamame for 2-3 minutes in boiling water and then rinse with cold water. Add edamame into the food processor with all of the ingredients. Blend until a dip consistency forms. Enjoy with your favourite fresh-cut vegetables and rice crackers!
Vanilla Birthday Cake Balls
Who doesn't love a little cake? These gems are another super simple recipe to add to your meal prep repertoire. A cross between cookie dough and vanilla cakes, you'll never know these balls are loaded healthy ingredients and zero refined sugar. The coconut oil and sunflower seed butter provide a dose of brain-loving healthy fats and oats provide soluble fibre to keep digestion running smoothly. This is another fun one to make with your little kitchen helper!    
¼ cup melted coconut oil

¼ cup unsweetened sunflower seed butter

¼ cup pure maple syrup

1 tbsp vanilla extract

2 cups oat flour

Large pinch of sea salt

Optional: Dye-free sprinkles or shredded coconut for rolling
Instructions:
In a large bowl, stir together the coconut oil, sunflower seed butter, maple syrup and vanilla extract until combined. Next, add in the oat flour and salt until a smooth batter forms. Refrigerate for 10 minutes, or until the dough is firm.
Using a small cookie scoop, spoon the mixture into your hands and roll into a ball. Find your favourite little chef and repeat with the remaining dough. If you're feeling fancy, roll the balls in some dye-free sprinkles or shredded coconut and refrigerate for at least half an hour before serving. Store in the fridge and enjoy for up to a week!
When it comes to drink options, I prefer to stay away from sugary, blood sugar crashing juices. One of my favourites is throwing some cut up fruit into an asobu Drink Box with water for a fruity flavour without all the sugar.  
And there you have it! An easy lunch formula for a delicious and nutritious back to school season!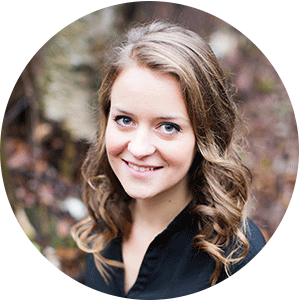 Michelle Lauer
Michelle is terra20's graphic designer. As a graphic designer and holistic nutritionist, she's passionate about educating, inspiring and empowering people to make more informed wellness choices.
When she's not working on the latest terra20 email campaign, she enjoys strolling farmers' markets with her pooch, hot yoga & making a mess in the kitchen.
Comments